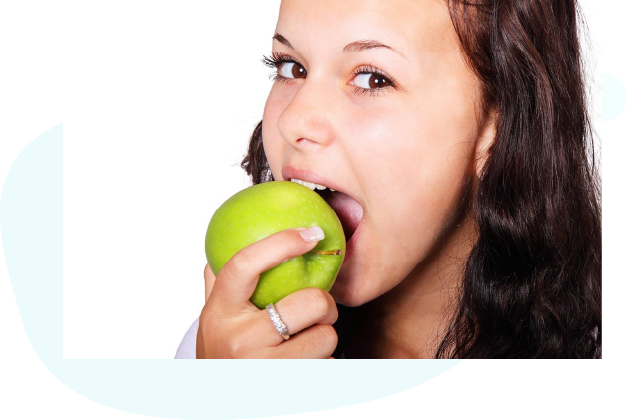 Have a missing tooth? Dental implants are one of the best solutions for replacing missing teeth, because they are designed to mimic the function and appearance of your natural teeth. Losing teeth can be frustrating and traumatic.
Trust Boardwalk Dental to provide the dental care you deserve. Our detailed planning, skilled treatment, and local anesthesia will keep your procedure as efficient and comfortable as possible.
The Many Advantages of Dental Implants
Unlike dental bridges or partial dentures, dental implants mimic the look, feel, and function of your natural smile. Here are some more benefits that make them our treatment of choice:
Why You Need to Replace Missing Teeth
Losing a tooth might make it difficult to speak or eat the foods you want. If you leave gaps in your smile for too long, the rest of your teeth will even begin to shift to cover the gap, leaving your smile compromised, changing your bite, and transforming your entire facial profile!
Dental implants are aesthetically pleasing and function just like a regular tooth. They prevent the shifting of neighboring teeth and have success rates of over 95%. That's why we recommend implants for smile reconstruction on all our patients who qualify.
Boardwalk Dental offers an array of financing and payment options to suit most family's budgets. Our staff will review your options with you, along with any insurance payments or upfront in-full payment discounts that might apply.
Additionally, we offer dental financing options through CareCredit. CareCredit lets you say "Yes" to recommended surgical and non-surgical dental procedures, and pay for them in convenient monthly payments that fit your financial situation.
It's free and easy to apply, and you will receive a decision immediately. If approved, you can schedule your procedures even before you receive your card. With more than 21 million accounts opened with CareCredit, they are the trusted source for healthcare credit cards. Interested? Apply Now!
FREQUENTLY ASKED QUESTIONS
Am I a candidate for dental implants?
If you have good overall oral health, you likely can get dental implants. Sufficient gum tissue and jawbone to support dental implants are vital to fostering a healthy environment for your new smile.
The best way to determine if you're a candidate for dental implants is to schedule a consultation with us. During your consultation, we'll evaluate your oral health and anatomy to determine if implants are the best choice and how many you'll need.
Is the treatment for dental implants painful?
No matter which procedure you have with us, we want you to be comfortable. We use the proper anaesthetic and sedation to complete your dental implant procedure. You can rest assured we'll keep you fully numbed and comfortable the entire time.
How do I care for my dental implants?
After placement and restoration, we ask that you treat your implants as if they were natural teeth. While implants won't get cavities or require a root canal, you still must brush and floss regularly and schedule a checkup every six months to make sure your dental implant lasts for as long as possible.
Do you have sedation options available?
Yes. If you are one of many who are anxious about going to the dentist, we can restore your mouth to a healthy condition while using safe oral sedation techniques. You will feel relaxed and drowsy during the procedure, with little or no memory of the appointment.