Taking Care of the
Youngest Smiles
One of our greatest passions at Boardwalk Dental is to care for the smiles of our youngest patients. Your child's first dental experiences are so important to how they view the dentist for the rest of their life. We strive to ensure a positive, memorable impression of the dentist's office so that they can be enthusiastic about their future visits.
What to Expect At Your Child's First Appointment
It's important that your child's appointments with us are fun and comfortable. We will role-play a bit with them, tell them engaging stories, and invite them to participate by counting their teeth or showing them our tools. Their examination will feel more like playing than anything serious and clinical.
They can even sit on Mom or Dad's lap to stay comfortable and at ease. We'll never push them to do anything they don't want to do. If we identify the need for further treatment, we'll discuss that with you.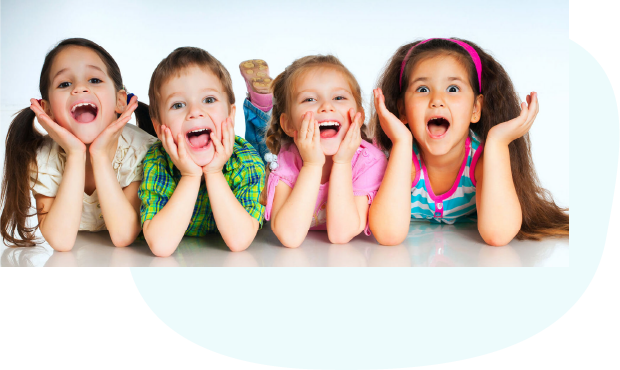 Get to Know Our
Kid-Friendly Dentist
Dr. Garcia has a special interest in providing children's dentistry. As a mom, she understands the importance of making a child's visit as special as possible when they visit Boardwalk Dental. Her goal is to help your kids remember the dentist as fun and enjoyable. She will also teach valuable skills like proper toothbrushing or flossing techniques.
FREQUENTLY ASKED QUESTIONS
When should my child first visit the dentist?
The American Academy of Pediatric Dentistry (AAPD) recommends that a child go to the dentist by age 1 or within six months after the first tooth erupts. We can introduce them to our warm environment and friendly team. Because we make children's visits fun, they'll develop an interest in going to the dentist and have any fears taken away. Before visiting us, be sure to use positive language when discussing dentistry so that they can have a fun experience.
What if my child feels nervous about visiting the dentist?
As parents, it's important that you never speak negatively about the dentist in front of your children. They will expect a negative experience and won't look forward to their visits. If they already dread their visit, let them know that we're not like the dentist they may imagine. Every member of our team loves to see kids. We'll greet them, take our time getting to know them, and involve them in their dental care in a fun way!
When should I start to clean my child's teeth?
You can clean the gums before your child's first teeth develop. Use a damp cloth to wipe them off. When they get their teeth, you should get a soft child's toothbrush to clean their teeth.
Is thumbsucking or using a pacifier harmful to my child's teeth?
Thumbsucking can make a child feel safe. Pacifiers are considered okay up until your child is one or two. If your child sucks their thumb beyond the age of four, they risk losing their jaw structure or requiring braces when they get older.
Do you have any tips for teething babies?
The pain that accompanies teething can be alleviated by biting or chewing on a teething toy. Unsalted crackers can also help. Ointments and creams are available at shops, but speak with your dentist before using them.